About Us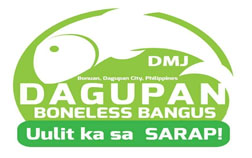 We are a supplier of Fresh and Authentic Dagupan Boneless Bangus, Relyenong Bangus, and Tinapang Dagupan Boneless Bangus.
We are OFW for more almost 2 decades. With the end in view of finally going back to our own country, start our own business, and be able to also provide business opportunity to our fellow OFWs as well as other Filipinos, we are now into wholesale distribution and trading of authentic Dagupan Boneless Bangus and other specialities from Pangasinan.
Our competitive advantage is that we are from the same place where the supply of Bonuan Bangus is abundant.
We both personally handle the business and ensure that we deliver only the fresh and quality products at most competitive prices.
our mission
To be able to achieve this vision, DAGUPAN BONELESS BANGUS is guided by the following mission statements.
Our Vision
To be the leading and most reliable supplier, distributor, and processor of fresh, delicious Dagupan Bangus products in the Philippines and abroad.